Legoland is majority about family and kids. It is an iconic tourist attraction for both domestic and international tourists.
We purchased an entry ticket online one week before arrival. Entrance tickets for four adults costs RM480. Even with the rebate, it is also expensive for locals. Buy your tickets online can skip the ticket line. Can you see what we trying to post? Yes, you are right. It is LEGO.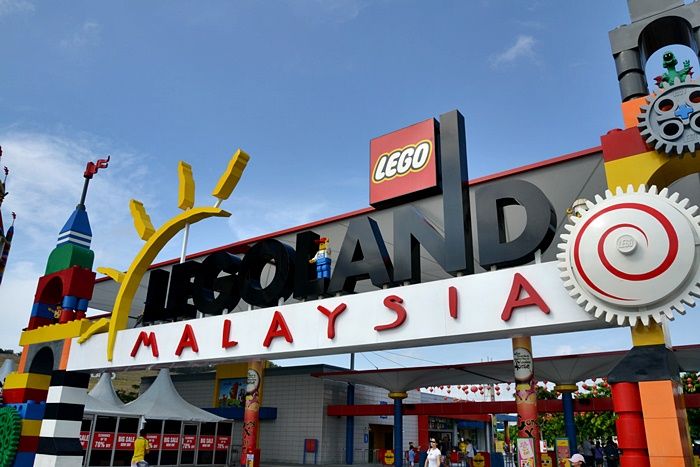 We drove to Legoland. It provides a huge parking space for visitors. You may park at the basic uncovered car park at RM9 per entry. The place was just big enough to cover in a full day.
The park has several themes and plenty of rides for all ages of kids. To avoid crowds, it is advisable to come on a weekday and arrive before 11am.
The theme park has a convenient hotel with theme room.
Albert Einstein at the Lego Academy.
It is such a wonder to see these characters as they are entirely made out of Lego bricks.
Giant Octopus with its victims. It is not kidding. The octopus is made out of lego.
It is amazing seeing all the different types of things they construct out of legos.
Dad and mom were amazed with the design and the models.
"I am willing to draw of whatever you want," said the Lego artist.
It's well worth skipping sections to go to the miniature worlds. After a long walk, we reached the Miniland of Legoland. Signature buildings around the world that are made out of Legos.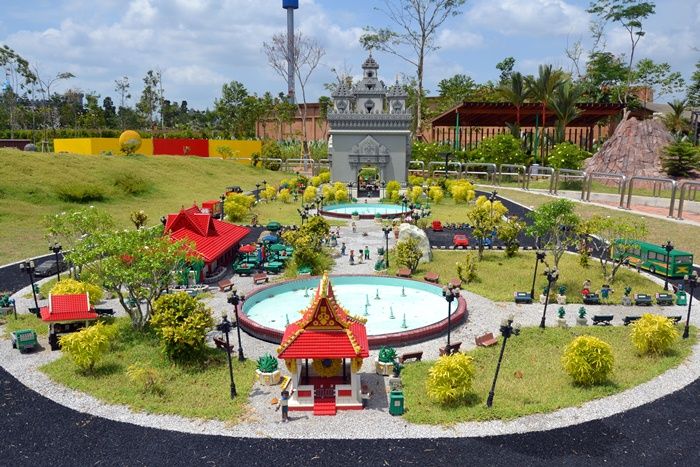 Laos.
The Forbidden Palace and Great Wall in Beijing, China.
Petronas Twin Towers in miniature size.
Indoor miniland area features Lego models of events from all six Star Wars movies and the animated Clone Wars television series.
The activities at LEGO City can be participate by the whole family or group. We went around doing the Galaxy Hunt Activity Kit. It was fun. We won some prizes after finishing the trail.
There is another highlight in Lego city, which is called Driving School. Children can experience an unique chance to drive. They queued up and went for their crash course on how to drive safely.
Four fire trucks were lined up at the starting point and 'firemen' had to 'move' the trucks towards the 'house of fire'.
Please keep quiet. This uncle was snoring. People who snore always fall asleep first. Do you agree?
Don't miss the sleeping man on the bench who snores. He snores every time someone gets close to him.
We spent about seven hours taking rides and walking around under the sun. It was a very tiring but fun and productive day trip.
It was`time for 4D movie show. We need to queue early according to the time given. They have certain show time. Ample of seats in the theater. We can feel the breeze and cooling air with the bee coming out from the screen. After 10-15 minutes of the show, suddenly there was few bubbles coming out from the front and people at the front side is the most affected side.
The lines were not too bad, probably 10-20 minutes for each ride. Rides are often limited by height and age. One big down point for Legoland lacks shades and cooling down areas. It was extremely hot.
Lots of fantastic photo opportunities. This was another thrilling, ride that we gave a miss.
You could do the water park as well which we opted not to since we had one day here. We planned to go to Hello Kitty Land the next day. Two days are great for both the Theme and Water park.
Dad and mom found that all items inside the shop was double higher expensive than outside shop. The restaurant and food there was limited choice and overcharged. We went searching for some food outside the theme park. Have your lunch before getting inside.
It is great to bring your family members to the Legoland Theme Park and Water Park during school holiday to enjoy your priceless family moment. An excellent family day out with something for everyone.
We truly enjoyed the amazing fireworks display and shows at 8pm. We were also given a pair of 3-D glasses to view the firewalls. They weren't 3-D glasses. They were lego glasses which made any light look like Legos.
Dad and mom were dead tired at the end of the day, but nothing compares to this kind of family bonding. We look forward our next trip. Hello Kitty Town and The Little Big Club, here we come.