We decided to have tea time at Clock Cafe with po po on 24.8.2014. It was a lovely place to have a cup of coffee and a piece of cake .
An extensive collection of antique clocks are part of the restaurant interior.
Making fancy coffee in various styles by using espresso, milk and chocolate topping is fun. Coffee foam art adds comfort to an already dreamy and friendly drink. Do you like this coffee foam art? Dad and mom love it very much.
Their business hour is from 10am-12am. This newly opened cafe in Seberang Jaya certainly brightened your mood with their unique design.
Dear girls, clock reminds us the value of time. Time is a resource and we should not waste the time God has given us. We must live our life in a way that pleases God.
The clock is ticking. It is time to enjoy your meals.
A relaxed and comfortable environment where you can enjoy food.
If you are in Seberang Jaya, please do drop by and sample their food.
A friendly staff was demonstrating their coffee art skills. You can customize the design using stencils with a pattern, letter or number. Choose fun stencils that will fit on the top of our coffee.
It was good experience to learn how to use chocolate powder in coffee art. A good art always brings a smile to our face.
The staff really put some efforts on decorating the plate. Thumbs up.
Do you love these wall paintings ? Nowadays wall paintings create an artistic air to restaurants.
Hot Honey Lemon. It costs RM4.50.
Cappacino Hot Coffee. It costs RM9.00.
In House Special Sandwich. It costs RM7.90.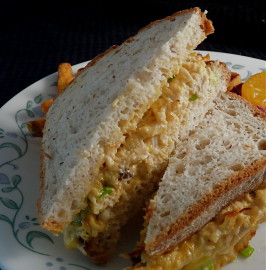 Mom love to make toasted tuna sandwich at home. This warm toasted sandwich is a mix of warm melted butter, onion and garlic. Salt and pepper the tuna salad to your desired taste. Girls, onion and garlic make for good additions to tuna salad.
BBQ Chicken Chop. It costs RM11.90.
Cheezy Wedges. It costs RM4.90.
Signature Fried Rice. It costs RM6.90.
Clocks Chocolate Mousse Cake. It costs RM10.90.
Is it a cake or is it a clock? It is a cake. Always be on time with this tea and cakes design clock.
Dear Lydia and Priscilla, family tea time is not about the food. It is about sitting down to relax together.
We would like to say thank you to dad for a beautiful evening. His company made our day so memorable. We appreciated the day very much.